Woot!? It's been a while and it feel so good to be back. Medyo mataga-tagal din akong nawala sa aksyon ah. Hindi ko namalayan na nagtapos na pala ang buwan ng Hunyo at heto tayo't bumabati na sa buwan ng Hulyo. Sa mga mare at parekoy ko sa mundo ng blogging, pasensya na kayo dahil naging busy lang ang inyong lingkod sa kung anu-anong mga bagay these past few weeks. Humihingi din ako ng paumanhin kung hindi ako nakadalaw sa inyong mga blog.
Alrighty, since this is my 50th post at gusto ko rin na maging masaya kayo, heto at may munti akong handog para sa inyo. Medyo na-miss ko nang mamigay ng award. Nung bago mag pasko pa yata yung last award giving ko.
Okay without further ado, I am giving this "
Fidelis Blog Award
" to the following people who has been my avid visitors and of course, a loyal blog friends these past 12 months of my quest in the blogging world. By the way, the word "
Fidelis
" is a latin term meaning "
loyal and faithful
".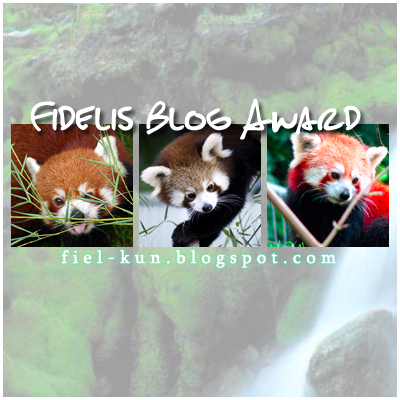 This award goes out to:
Ahmer
,
Arvin
,
Ayu-chan
,
Bluedreamer27
,
Cheen
,
Fr. Felmar, SVD
,
Gege
,
Ishmael
,
Jag-kun
,
Jhiegzh
,
Lionheart
,
Mr. Night Crawler
,
Pusang Kalye
,
Roadside Reviewer
,
Sendo
,
SuperJaid
,
Tim
,
WindowLad
,
Xprosaic
:+:+:+:+:+:+:+:+:+:
I am also giving out this "
Cool Blog Award
" to my newly found blog pals.
Ice
,
Nicxster
,
Paola
,
Raft3r
,
Sasarai
,
Stevevhan
,
Unni
:+:+:+:+:+:+:+:+:+:
The simple Rules:
1. Download or Copy and Paste the image above and put it in your blog/site.
2. Don't forget to thank the award giver ^^
3. You could also create a post regarding this award (optional)
Hope you all like them ^_^