As you've probably heard by now, a massive earthquake hit Haiti on Tuesday, January 12, 2010, causing tremendous devastation in an already impoverished country. It's hard not to feel helpless in the face of all this suffering. However, you can make a very real difference by supporting the aid organizations that are hard at work in the Haitian relief effort.
One of the best ways to donate any financial aid is through the
American Red Cross
. You can go directly to their website which is:
http://www.redcross.org
.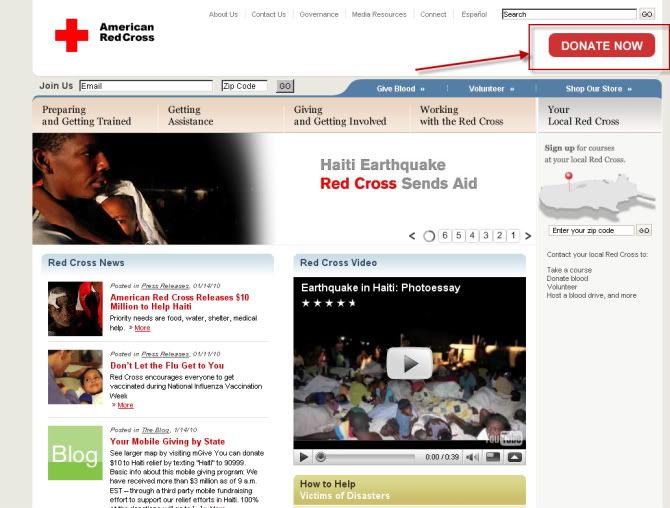 Then -Select "Haiti Relief and Development" from the list (as of this writing it's the second one down) and hit Continue.
--------------------------------------------
Can't donate money? Donate rice -- for free!
The World Food Programme
has a sister support site that most of you probably know about.
FreeRice
is helping to support the victims of the Haitian earthquake by donating rice. Though the website and its donations are not strictly Haitian, I'm positive that much of the rice donated in the coming days will be going toward Haiti and the surrounding areas.
And you can help by just playing the game. For every vocabulary word you answer correctly, 10 grains of rice are donated toward the cause. There are also other subjects, such as languages, basic algebra and multiplication, English grammar, and geography. Just click the 'Change Subject' link to choose a new subject!
The best part is, the game is completely free for you to play, and you can give as much or as little as you like. Every little bit helps, especially in a time like this.
The Hunger Site
is another way you can help. By clicking one little button every day, money and resources will go to help Haitian victims. One click -- how easy does it get?
FreePoverty
is a website similar to FreeRice, where you can play a geography game to donate cups of water. The closer you are to the target, the more cups you can donate!
So just because you can't give money doesn't mean you can't help! Help now and save millions of lives.
And if you are a blogger, I do encourage you to join

Bloggers Unite for Haiti

. It's primary goal is to share information about this disaster and how people around the world can provide aid to ongoing relief efforts.