I must admit it, I am addicted in listening to a lot of KPOP. So what exactly is "KPOP"? Well
KPOP
means "
Korean Pop Music
". And why am I so into it? The answer is pretty simple - because of it's catchy beat/melody and there's something at the back of my head urging me to be unique from others by listening to this kind of music. Actually it has been my hobby for several years now. At first, I am only glued in listening to JPOP/JROCK (Japanese Pop/Rock music) and Anime soundtracks. And then came this online game called "
O2 JAM
". I tried playing it and I became hooked at it. On this game I first heard some of the catchy Korean tunes which has also became my first favorites.
[
Fly Magpie, Christmas Memories, Beautiful Day, Color Paradise, Song for You, Still Remember You, You were born to be loved
]
were some of my favorites O2 Jam tunes. Then after a year or so, it was followed by the release of another cool musical online game (also from Korea) called
Dance Battle Audition
. This game has a wider selection of KPOP music on their list and has a cute graphics too.
[

Aloha, Summer Drive, Gloomy March, Winter Story, Couple, Tonight, Not Alone

]
were my top favorite DBA tunes. These two games was the one responsible why I am soo hooked into the world of KPOP right now.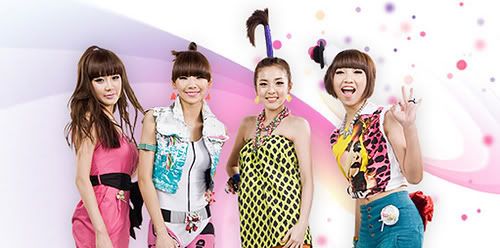 And now, KPOP is currently dominating the Philippine music scene.
2NE1
,
Super Juniors
and
Wonder Girls
were only among the few Korean group who are already making their marks here. I first saw 2NE1's "Fire" and Wonder Girl's "Nobody" music videos on MYX Daily Top 10 over two months ago and I was like "Wow, these girls are super cute and their songs are hippie! Not to mention one of 2NE1's member -
Sandara Park
. If you are a Filipino you'll definitely know who she is. The "
Pambansang Krung-Krung ng Pilipinas
". lols. We are so proud of you Sandy/Dara.
2NE1, Wonder Girls, Boa, DBSK, Kara, SS501,T-Max, Shinee, Shinhwa, After School Girls
are some of my favorite Korean group/singers. How I wish they could also make it all here ^_^