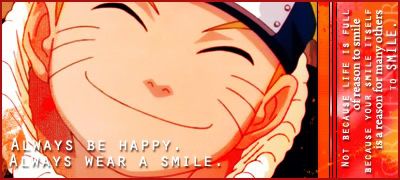 A smile is a gentle curve line that makes a lot of things straight. A smile brightens one's day. And what more if it's a big laugh - a laugh that brings joy to the people around.
A laugh maybe an exaggeration of a smile. We usually add some giggling tunes to our smile and from there we can have different sounds of life. There are laughs which sound like a neigh of a horse. Then there are the guys low-pitched laughs and the Santa Claus ever-popular "Ho-ho-ho". But the sound doesn't matter anyway; what's important is that we're doing something which can prolong our lives.
A smile and a laugh offer relief to each obstacle and victory to each life's game. A smile is a good way to start our days. It shows how ready and joyful are we in facing the reality. It also shows how thankful to God for giving us another day to grow and explore the wonder of this world.
Just a smile can brighten someone's day. It makes the person feel that somebody loves and believes in him.
A smile is also a means of saying that we should learn how to laugh at our problems. We should not take these problems seriously, but of course, we should not take these problems for granted, but instead, we should give all our best in solving them. Looking back at those times when you were dead serious with your problems, you just can't help but laugh at the memory.
Smile and laugh are two short words but can do a lot in our lives. So remember, KEEP SMILING, KEEP LAUGHING!
*This entry is in line with Sir

LordCM

's

Isang Minutong Smile

campaign/event this coming December 8, 2009.